★  

PARKING, TRAFFIC & PARK RULES

 ★
PARKING, TRAFFIC & PARK RULES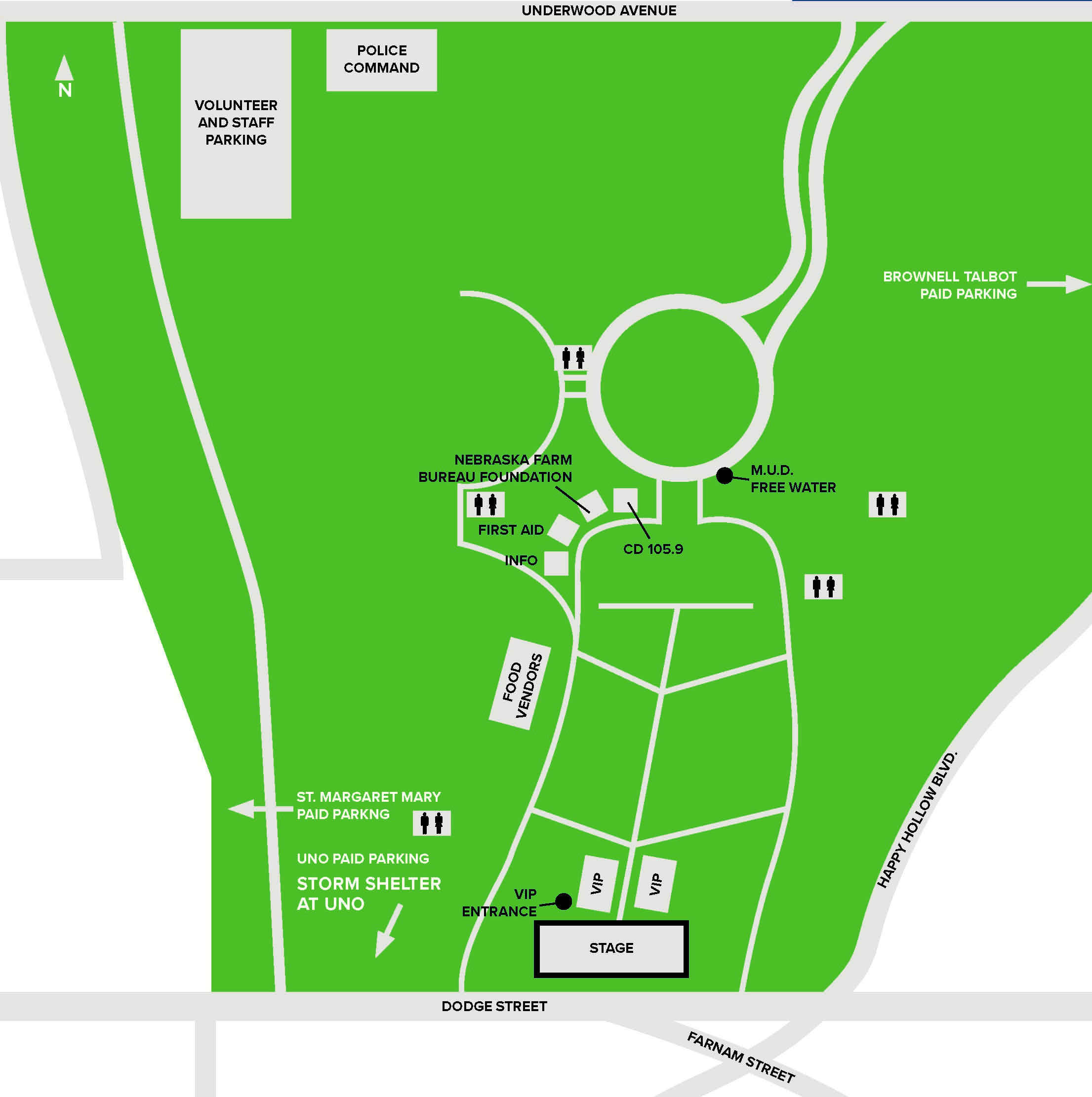 EVENT RULES
Memorial Park opens at 5:00 a.m.
No tarps, No staking anything into the ground
No tents, canopies, umbrellas, etc
No drones
No fireworks
No glass bottles
All items entering the park are subject to inspection
Keep fenced aisles clear
Be nice, be courteous, pick-up your trash, have fun
---
HELPFUL THINGS TO KNOW
Information Booth & First Aid – West side of the park
Food Vendors – West side of the park
Nebraska Farm Bureau Foundation will be onsite accepting FLOOD RELIEF donations
ATM – there is NOT one onsite, closest options are at UNO or in Dundee
The City of Omaha and event producers, sponsors and partners are not responsible for
personal items left in the park
M.U.D. is on the circle drive with their Hydration Station – fill your own water bottles

Interpreters will be onstage throughout the entire night. A limited amount of reserved seating is available at the front of the stage for the hearing impaired. The interpreters will be positioned on the East side of the stage. If you are interested in seats in the reserved seating area, please check in on the WEST side of the stage and you will be directed to seats near the interpreter.

 
---
PARKING
UNO

Public parking WITHOUT a university permit is available on UNO's campus after 4:00 p.m. on Friday, June 28th. Follow all posted parking rules. Do NOT park in reserved stalls. No parking on grass. If you are arriving before 4:00 p.m., parking is available in the East Garage (any level) for a $4 daily rate through the ParkOmaha app. The East Garage is just south of Dodge Street on University Drive East and the garage has multiple entry points.
St. Margaret Mary

Paid parking is available on a first-come, first-served basis. The $10 per space fee supports the Youth Ministry program of St. Margaret Mary. Entry off of Dodge Street or Chicago Street.
Brownell Talbot

Paid parking is available on a first-come, first-served basis beginning at 3:00 pm. Profits from the $20 per space fee will be donated to Farm Aid to provide support for local flood victims. The main parking lots off Underwood Ave and Happy Hollow Blvd will be open.
Neighborhood Parking

Please be respectful if parking in the neighborhoods adjacent to the park. Special parking regulations are enforced during the entire day of the concert. Some streets are one-way. Please follow all posted signs.
Handicap parking
Available first come, first served on Memorial Park Drive (enter from Underwood Avenue). Police will be at the barricade and can direct you if spots are available.
---
TRAFFIC NOTES
Many surrounding neighborhood roads will be converted to one-way streets starting at 6 a.m. Friday. Temporary No Parking zones will also be signed and enforced in these areas.
Omaha Police will be in and around Memorial Park during the day and throughout the event on Friday, June 28th. Please follow any directions given by officers.